From large to small
(or vice versa: from small to large)
Stubbe Logistics fills your drums, IBCs and jerry cans with a focus on safety, sustainability and hygiene. Stubbe has long specialised in the filling of high-viscosity oleochemical products in the heated state.
To guarantee the quality of your product, Stubbe uses multiple supply lines to ensure that the various product groups remain segregated. To ensure that the production is free of water, an pre-run is made in consultation with the client. This ensures that the line is 'rinsed' with the product prior to the actual filling. The pre-run is subsequently disposed of in a sustainable manner.
Stubbe can also take a sample at any time during the filling process. We take the samples directly from the filling lance, to ensure that this is performed as hygienically as possible. This eliminates any risk of contamination.
As soon as the filling process is complete, we thoroughly clean the lines. We use our Clean In Place (CIP) system, which streams water and detergent through the pipes and filling lances at 80 degrees to subsequently blow them dry. This enables us to commence each new filling process with a throughly sanitised system.
Stubbe can also take care of the purchasing of your drums & IBCs if desired.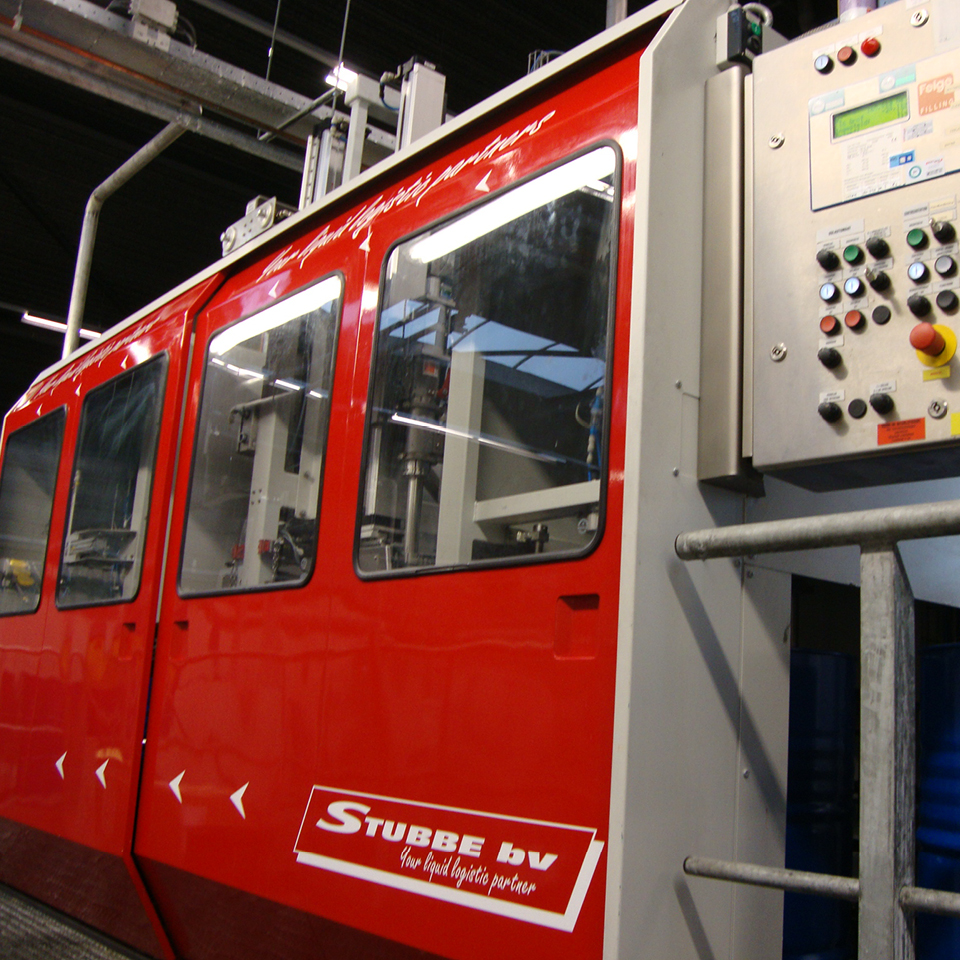 The filling of drums (with products up to 180 degrees) is a fully automated process. If desired, we can equip the drums with a nitrogen blanket after filling to prevent implosion due to cooling. We then automatically place the drums onto pallets and equip them with a cordstrap. We subsequently store the pallet of drums in our partner Zijderlaan's warehouse, which is directly connected to our filling lines via a roller conveyor.
The filling of IBCs is a semi-automated process. We load the IBCs onto a roller conveyor using a forklift truck, after which they proceed to the filling operator. The filling operator places the IBCs under the filling lance and commences the filling process. We supply the IBCs with one or more customer labels and seal the filling hole using a (blank) plastic seal upon closure.
Stubbe owns three filling machines in total: two in Stolwijk and one in Gouda. This ensures that each site has its own specialisation.
Stubbe's Stolwijk site is equipped with a fully-automated drum filling machine and a semi-automated IBC filling machine. This is capable of filling some 600 drums & 200 IBCs per day.
We can also install filters in-line during the filling of drums & IBCs at our Stolwijk site. This prevents unwanted solid particles from entering the packaging. We use filters measuring between 0.5 and 800 microns, depending on client requirements.
Stubbe's Gouda site is equipped with a pallet filler, which allows us to fill drums and IBCs on pallets. We can also fill 10 to 25-litre jerry cans individually.
We fill smaller batches and specialist products at Gouda. Such as highly viscous products that require filling at low temperatures via a filter.
Contact us to discuss the possibilities